I would share pictures from our weekend with you... except I didn't take any. We ate some great food, spent time with friends, and watched a lot of football. Last night we did pretty much the same thing, except we both went to bed irate over the ending of the Monday night football game. If you don't care about football, it's totally fine if you stop reading now :)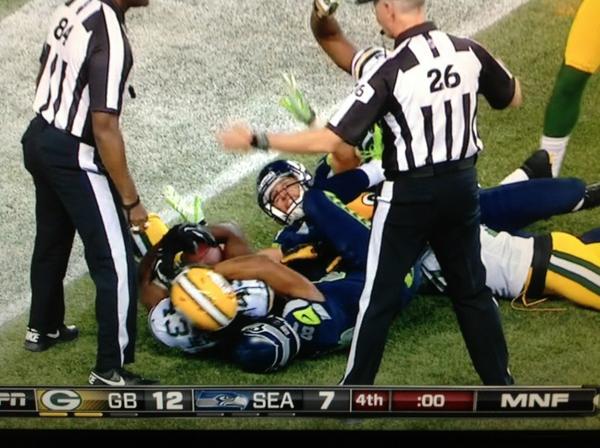 I'm a football fan. I'm a Bengals fan. I am not a Packers or Seahawks fan, but this game was a joke! Jennings (Packers) clearly caught the ball, brought it in to his chest, which equals possession, and Tate (Seahawks) managed to have an arm wrapped around and touching the ball. Just because a Seahawks player was cradling a Packers player doesn't mean he caught the ball. That's like saying "If I am holding a chicken and it lays an egg, then I laid the egg." Uh, no.
These replacement refs are ridiculous. They're probably trying their hardest, but it is not good enough. The calls are bad, the players aren't safe. Let's not forget before Tate was credited a touchdown for NOT catching the ball and he also shoved another Green Bay player, which is pass interference. And he
wouldn't even own up to it in an interview
. I call b.s. Tate, you do know what she was talking about. Not to mention, there is video footage from who knows how many cameras.
Not only are the refs terrible, the Seahawks have no class or sense of sportsmanship. Walking around like they earned something that they didn't, refusing to own up to the pass interference, and refusing to acknowledge that that he didn't even catch the ball!! I don't see how anyone can be proud, fan or player.
(And if you're on of those people that is insisting it was simultaneous possession - it wasn't. Please review the play, note the PI committed by Tate in the first place which should have been called, and that Jennings took possession when he pulled the ball to his chest. You have to have control of the ball, you have to have possession in order to get a touchdown. Tate had neither. )
The actual referees and the NFL need to end this lockout, it is awful. It's ruining games, and it's affecting the careers not only of the players but the coaches as well. It's even more frustrating that there is no appeals process in place for the Packers. I heard this morning that we have these refs for at least one more week, so here's to hoping it's the last! I can't imagine how terrible it will be if we get stuck with these guys through the playoffs, let alone the Super Bowl.
The Packers players are all better people than I am, returning to the field for the extra point kick. I wouldn't have done it. If I was their coach I would have loaded them all up ASAP and left the stadium, the city, the state. It was absolutely ridiculous. I'm really glad Green Bay doesn't have to play them again. And if I catch anymore Seahawks games this year, regardless of who they play, I will always be rooting for the other team. I cannot respect a team that thinks it is okay to "win" like that. I'm sorry if you're a Seahawks fan and you disagree, my opinions are not a personal attack on you, but anyone who is a true fan of this sport cannot honestly respect that call or how the game ended.
Have any of your favorite teams been affected by the bad calls made by the replacement refs? Were you upset with the end result of this game?